The 'Atlantik Wall' is the German fortification structure from World War II, stretching along the coast from the very north of Norway to the south of France.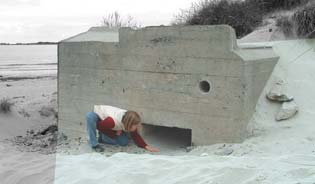 Since 1996 the Norwegian architect Maria Nome Doyle has been walking and discovering the widely ignored bunkers on the coast around Stavanger.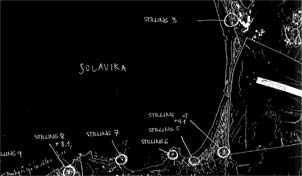 Her fascination with the 'Atlantik Wall' has led her to undertake archival research, interviews of contemporary witnesses and extensive in-situ documentation.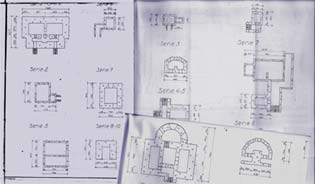 These blueprints of Bunkertypes at Harveland, Vistnes and Bø were registred by 'Forsvarets Distriktsingeniør Sør-Vestlandet' in 1970.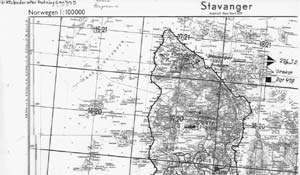 This original 1944 map from the Archiv GISKA, 'Höh.Küst.Art.Kdr.Nord, Wehrmachts-befehlshaber Norwegen`shows the Stretch of the 'Atlantik Wall' along the coast of Stavanger/Sandnes.
For more information on the Atlantikwall, please contact
Maria Nome Doyle
directly, use the selected bibliography or visit the listed archives below.
Selected bibliography
Books
Adler Leo
"Baurichtlinien der O(rganisation) T(odt)"
, 1942
Andersen Jens
"The Atlantic Wall from Bagger to Bulbjerg"
, ISBN 87-89834-30-5
Anthonisen Bent Bågøe
"Hanstholm-Festningen"
, Bollerup Boghandels Forlag, 1985
Anthonisen Peter Nyholm
"Die Festung Thyborön und der Schildkröten-Spion"
, ISBN 87-89155-54-8
Arnold Dietmar u. Ingmar / Salm Frieder
"Dunkle Welten"
, Ch. Links Verlag, Berlin, 2002
Berglyd Jostein
"Krigsminner i Dalane og på Sør-Jæren"
, Dalane Folkemuseum Egersund, 2000
Dürrenmatt Friedrich
"Der Tunnel"
, Roman
Ebert Vibeke B
"The Atlantic Wall from Nymindegab to Skalling"
, ISBN 87-980646-8-1
Fjørtoft J.E
"Tyske kystfort i Norge"
, Arendal 1992
Fleischer Wolfgang
"Feldbefestigung des Deutschen Heeres 1939-45: Ein Typenkatalog"
, 1998
Foedrowitz Michael
"Bunkerwelten"
Gottsch Hans / Todt Fritz
"Technische Baubestimmungen. Baupolizei, Hochbau, Tiefbau – für das Deutsche Reich"
, 1939
Gray Wilhelm Samuel
"Reinforced Concrete Towers, bunkers, silo-"
Jaukkuri Maaretta
"Skulpturlandskap Nordland"
,
Forlaget Geelmuyden. Kiese, 1999
Kellermann Bernhard
"Der Tunnel"
, Roman
Neitzel Sonke
"Deutsche Ubootbunker und Bunkerwerften"
, 1991
Rolf Rudi
"Der Atlantikwall"
, Zeller Verlag, Osnabrück, 1998
Med type-tegninger bunkere
Sande Lars Chr., red.
"Rogaland"
, Rogaland Fylkeskommune, 1993
Schoenleben Eduard
"Fritz Todt – Der Mensch, der Ingenieur, der Nationalsozialist – ein Bericht ueber Leben und Werk"
, Berlin 1943
Shirer William L
"The Rise and the Fall of the Third Reich"
, Pan Books in ass. With Secker & Warburg, London 1964
Showell Jak P.Mallmann
"Hitler's U-Boat Bases – Fortress Europe"
Virilio Paul
"Die Kunst des Schreckens"
Zimmermann R.H
"Der Atlantikwall"
Magazines
Arkitektnytt, 19/03
Steder som "stunts" eller som sosiale prosesser?
Stavanger Aftenblad, 05/96
Statsstøtte til bunker
Stavanger Aftenblad, 13/08/03
Nytt konferansesenter ved Solastranden
Stavanger Aftenblad, 08/03
Klar for innflytting i Ølberg strandhage
Stavanger Aftenblad, 10/03
Arkitekter og kunstnere fikk hakeslepp på Jæren
Stavanger Aftenblad, 28/05/04
Stavanger 2008
Aftenposten Nettutgaven, 02/12/03
Ekstremturisme i tidligere hysj-hysj anlegg
Theory, culture & society, 16,5/6
Special Issue on: Paul Virilio / John Armitage
– London(u.a.): Sage Publ. 1999
Baunetz für Architekten: Meldungen, 07/01/04
Reflecting Absence
Gerrit Confurius
"Ein erratischer Block – Der U-Boot-Montagebunker Valentin"
Bauen und Kämpfen
1942, Schriftreihe
Catalogues
"heaven's gift"
CAT Contemporary Art Tower, MAK Wienna
Artproject in Arenbergpark Flak-tower Wienna
"MuseumsCenter Hanstholm"
Die 38 cm-Batterie: "Stützpunkt 2. /M.A.A.118"
Batteri med omliggende bunkeranlegg
"Dokumentationscenter i Hanstholm"
MuseumsCenter Hanstholm, 2002
Hansholmfestningen's nye dokumentasjonssenter
"MuseumsCenter Hanstholm"
MuseumsCenter Hanstholm, Hanstholm
Hansholmfestningen's nye dokumentasjonssenter
"Discover Wartime Memories"
Turistinformasjon www. eurotunnel. com
"Baufachliche Richtlinien für Stollenanlagen und Bunkeranlagen"
"Norge under okkupasjonen"
Klepp kommunes arkiv
Beskriver tyskernes aktiviteter i Klepp uner krigen m/kart 1:20 000
"Kongevegen i Hå"
Turhåndbok, Hanne Thomsen, Hå Kommune 1996
"Klepp Kommune Kulturminneplan 1997-2008"
side 17,18
"Krigsminner 1940-45 i Klepp Kommune"
Klepp Historie –og Ættesogelag, Klepp Kommune, 1990
"Kulturlandskapet I Stavanger"
Historisk del, Byplansjefen i Stavanger, 1991
"Fylkesdelplan for langsiktig byutvikling på Jæren"
Rogaland Fylkeskommune, 2000
"Fylkesdelplan for Kystsonen i Rogaland"
Rogaland Fylkeskommune, 2001, med kartbilag
"Übersicht über die Küsten-, Flak- und Torpedobatt. in Norwegen nach dem Stand von Mitte 1943"
Inspekteur der Landesbefestigung Nord F2 Nr. 16053/43 geh. Kdos. vom 30.06.1943
Maps
Historical
Eks-tyske anlegg, omr. Helleland
1:200, 129-1-5, Forsvarets distriktsingeniør avd. Vestlandet
Eks-tyske anlegg, omr. Hellestø
1:200, 129-1-4, Forsvarets distriktsingeniør avd. Vestlandet
Eks-tyske anlegg, omr. Kongshaug
1:200, 129-1-9, Forsvarets distriktsingeniør avd. Vestlandet
Eks-tyske anlegg, omr. Leanuten Blad 1
1:200, 129-1-14, Forsvarets distriktsingeniør avd. Vestlandet
Eks-tyske anlegg, omr. Leanuten Blad 2
1:200, 129-1-15, Forsvarets distriktsingeniør avd. Vestlandet
Eks-tyske anlegg, omr. Tananger/Madla/Sunde
1:200, 129-1-13, Forsvarets distriktsingeniør avd. Vestlandet
Eks-tyske anlegg, omr. Tungenes
1:200, 129-1-6, Forsvarets distriktsingeniør avd. Vestlandet
Eks-tyske anlegg, omr. Valen/Einarsvarden
1:200, 129-1-11, Forsvarets distriktsingeniør avd. Vestlandet
Eks-tyske anlegg, omr. Vistnes
1:200, 129-1-7, Forsvarets distriktsingeniør avd. Vestlandet
Høyland
1:25 000, Serie M816, Stavanger II, 1-NOR, 1967 Avgradert 11/07-02
Klepp
1:25 000, Serie M816, Stavanger I, 1-NOR, 1958, Avgradert 11/07-02
Madla
1:25 000, Serie M816, Stavanger V, I-NOR, 1964, Avgradert 11/07-02
Rennesøy, Norway
1:50 000, AMS Series M711, Sheet 1213 III, 1955, Avgradert 11/07-02
Sola
1:25 000, Serie M816, Stavanger III, I-NOR, 1964, Avgradert 11/07-02
Stavanger
, Norwegen
1:100 000, Höh.Küst.Art.Kdr.Nord beim Wehrmachtsbefehlshaber Norwegen, 1944, Generalinspektøren for kystartilleriet. Tyske oversiktskarter over festningsanlegg, eske 16
Listed archives
Bundesarchiv - Militärarchiv – Freiburg
, Freiburg
Bundeswehrarchiv Außenstelle Berlin
, Berlin
Bundeswehrarchiv Koblenz
, Koblenz
Flyhistorisk Museum
, Soma
Forsvarsbygg hovedarkivet
, Sola
Fylkeskartverket
Kystkultursamlingen i Tananger
, Tananger
Riksarkivet, Forsvarsavdelingen
, Oslo
Rogaland Krigshistorisk Museum
, Sola
Sola Flystasjon
, Sola